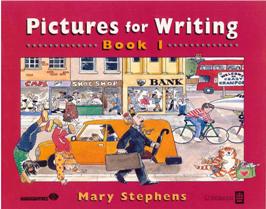 These two colorful books may look like they're for kids and bring no use to adults. But for Elementary to Intermediate Writing Learners, they can provide loads of fun, practical exercises covering various subjects and forms.
You can practice from sentence writing to paragraph writing and extended writing, learn planning, drafting, redrafting your writing, even how to write topic sentences and topic paragraphs. Letters, invitations, posters, stories, opinions,...you will learn how to write all those things!
I don't think these two books are available in bookstores nowadays, at least I have never come across them.
So, the links are here: (And enjoy!)
Pictures for Writing Book 1:
mediafire.com ?zjezy5wloti
Pictures for Writing Book 2:
mediafire.com ?gcom2etvghd